"We believe that intensive support and involvement during the growth of your baby contribute to a relaxed and pleasant pregnancy."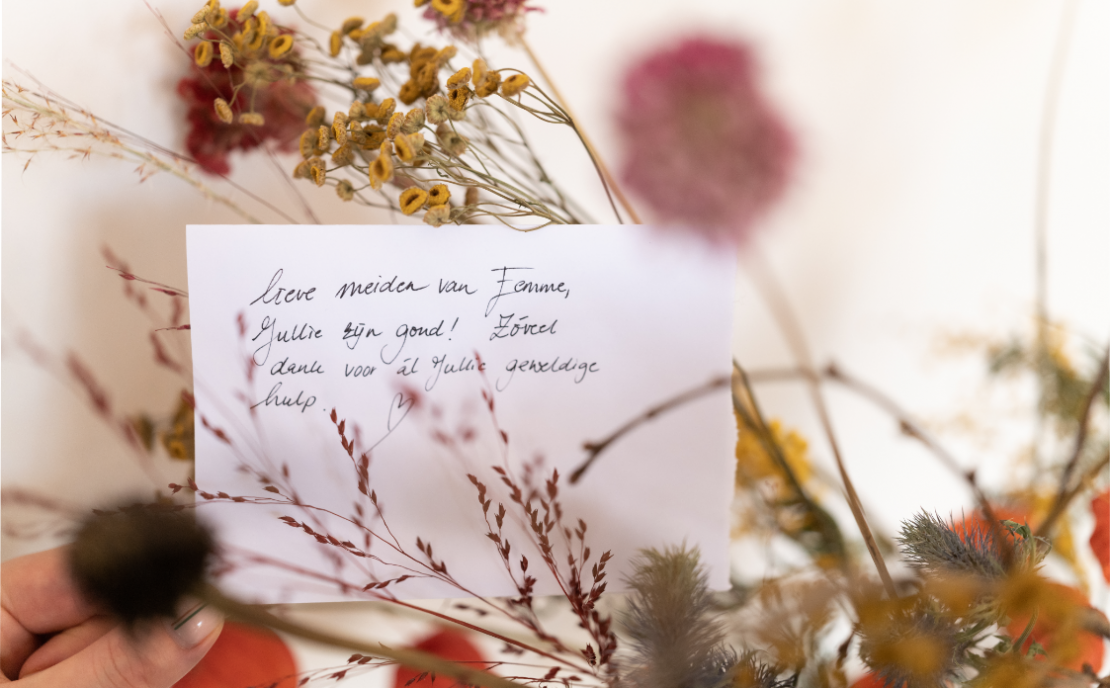 In 2014 Judith de Jong opened the doors to Femme Amsterdam midwifery practice. The wish of Femme? To offer expectant parents more. Good care, that truly fulfills your personal needs. Standard midwifery care often falls short for such an important and significant experience. This is why we developed three unique packages to complement our vision: support expectant parents to the very best of our ability during and after pregnancy.
Our innovative approach sets us apart from the rest. Our standard service includes additional ultrasounds so that we can carefully monitor the development of your baby. We work closely with a team of specialists including acupuncturist, pelvic floor physiotherapist, masseuse, coach, psychologist and nutritionist. There are also various information evenings held addressing birth, breastfeeding, nutrition and baby behaviour. We offer the full spectrum of care, including blood work and prenatal screening, all at the same address. Your pregnancy is one of the most important and treasured experiences in your life. We want to ensure that you are able to enjoy each moment of this special time and look back on it positively.
With us you choose the best care under one roof, mostly reimbursed by the basic package of your health insurance. We believe that pregnant women deserve more time and attention. It has been proven that more sincere attention makes you feel better and look back on it more positively. That gives a strong start as new parents.
In addition to this form of obstetric care, you can opt for one of our extra packages with us, outside your health insurance policy, which gives you all kinds of extras during your pregnancy, such as
More ultrasounds than the optional 3 ultrasounds (10, 13 and 20 weeks) that are reimbursed by your health insurance / gouvernement. Starting with a early ultrasound from of 6 weeks and by continuing to do ultrasounds after 20 and 30 weeks, we keep a close eye on the development and growth of your baby. In addition to the medical aspects, this is also a wonderful moment to take a look inside your belly, for both you and your partner and family. It is also very nice for your loved ones to be so involved in the development of your child.

We also prepare you well for what is to come, by means of information about nutrition during pregnancy, about the birth and about the period after; breastfeeding and baby behavior.

You can also make use of acupuncture, coaching, nutritional advice, massages and physiotherapy in our practice both inside and outside your chosen package.

Because femme does not stop after 9 months, we offer a monthly mother and baby gathering where you can also come together with a number of mothers at our practice around 6 weeks to get tips and tricks from a sleep coach.

You can also contact us for contraceptive care. If you want an IUD after giving birth, or if you want to have your IUD removed because you want to become pregnant, you can also contact us. We can also check with an ultrasound whether the IUD is in the right place.
At Femme-Amsterdam we are there for you 24/7! No question is too crazy for us, we are happy to think along with you about your wishes in your pregnancy during your birth and in your maternity bed and are happy to guide you in this.
In our practice, we use the most advanced ultrasound technology available: the Voluson E10 and S10 expert. This equipment creates incredible images. In both 2D and 3D/4D and with a unique live function. Enjoy realistic, moving footage of your growing baby.
Femme Amsterdam works with all hospitals in Amsterdam and Amstelveen. We also do phlebotomies at the practice and work with all laboratories in Amsterdam. We also contact other specialists where necessary, such as physiotherapists, the maternity care provider (kraamzorg) and your physician. If you require further tests following an ultrasound, we will refer you to the UMC (location AMC). We are linked to the SPSNH to guarantee the quality of our ultrasounds.